Best Top 10 Ideas on Kitchen Renovation
Kitchens are a very important part of our family life. A mess-up kitchen can create all the mess-up memories for the future. Renovating a kitchen is very crucial from time to time. It helps our kitchen to look brand new. According to some people, kitchen renovations are just waste of money and time. However, if you look carefully, is it so?
Every part of our home should match with each other to create a perfect home. Kitchens tend to turn older faster than the other parts of our home because it must deal with a lot of humidity and heat. Thus, pampering your kitchen by giving it a make-over is your duty. People have some concerns related to kitchen renovations, and the design of the kitchen is one of them.
If you are thinking about renovating your kitchen soon, then you are at the right place With the new modern decors and ideas along with the various decorative materials available in the market exclusive statement can be added to the areas. You can follow any of these ideas for renovating your kitchen.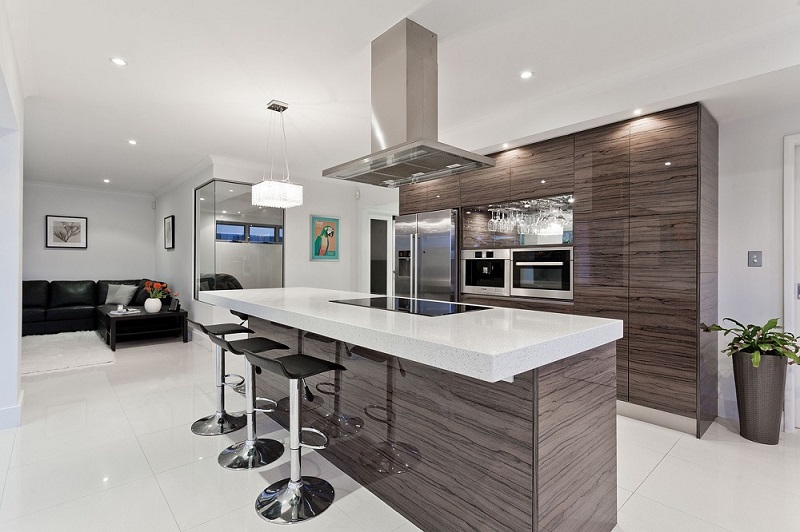 Ten exclusive kitchen renovating ideas for your kitchen – 
New appliances for a new look – Appliances can bring a major change into your kitchen. So, while renovating it make sure to change your appliances for maximum effect. You can bring new appliances of your choice or design old ones in a new way.
Get creative with light and bright colors – Colors are another major thing in kitchen renovations. If you are not a fan of bright colors, then tone it down with light ones. It will create a nice contrast in your kitchen.
Make your kitchen spacious with more windows – Natural lights are best for the kitchen. Moreover, it makes your kitchen look more spacious. So, add an extra window in your kitchen if possible.
Kitchen atmosphere is everything – Create a nice atmosphere in your kitchen. Bringing some fresh flowers or growing indoor plants to increase oxygen and air flow, is a good idea regarding this.
Green makes everything brighter – Don't forget to make a green corner in your kitchen. It will connect you with nature and help you to create a good atmosphere in the kitchen.
Retro looks are never out of trend – The classy retro look with black and white is never out of trend. So, if you are a fan of 80's you can give your kitchen a touch of it through lighting and furniture.
Change the position of appliances with creative layout – Make a creative layout to bring instant change in your kitchen.
A little risk can make everything better – Don't be afraid to take a risk while choosing colors or new appliances. It can make your kitchen exclusive.
Hanging shelves are an innovative idea – Hanging shelves are space-saving, modern and fancy. So, you can add them while renovating your kitchen to add some space for your utensils and accessories.
Keep it minimalistic to create the maximum impact – Always remember that the less is more. Don't stuff your kitchen with a lot of things. Keep it minimal to bring the maximum impact from every appliance.
Final thoughts
These are the ten exclusive ideas for renovations in a kitchen or pantry area. If you think there's something missing, you can always add that. Moreover, you can mix and match all these ideas according to your taste. Creating a perfect design for kitchen renovations is really a fun task. Renovating the kitchen is indeed a bit time taking. However, the result is can always overwhelm you. Hope you will have a good time during renovating your kitchen.